As in previous occasions, PARA participated at 'All India Thematic Social Forum: On Dignity, Diversity and Democracy' that was held on the past 31st of July and 1st of August in Hyderabad. The opening plenary was taken by different young activists from all around India who w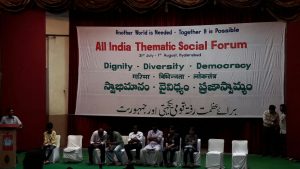 ere able to fill the auditorium of illusion and commitment with self-experience stories and sharp critics to the actual Government. Among them, film director Harishankar Nachimuttu reminded Ambedkar words on self-respect struggle and Rohith Vemula example, while Kanhaiya Kumar –the president of the students' union Jawaharlal Nehru University – closed the round of interventions with 'Azadi from hunger, corruption, discrimination and backwardness' shouts.
During the following hours several workshops took place at Dr. B. R. Ambedkar Law College where our Don Bosco students from Ramanthapur were able to perform songs and dances in the cultural events. On the next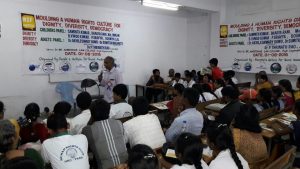 day PARA had the opportunity to share with all the audience Human Rights Club's experience through the testimonies of several kids coming from Telegana District's schools. Finally, in the closing plenary the Asian Social Forum slogan 'Another World is possible' was reflected and exalted through the powerful speeches of the Adivasi Leader Soni Sori or the transgender activist Revathi among others. Definitively, All India Thematic Social Forum: On Dignity, Diversity and Democracy' reminded us that another world is really possible through the civil society participation and people's empowerment.
PARA experience in WSF
First World Social Forum conference took place in Porto Alegre (Brazil) in 2001 aiming to rise the voice of civil society all around the world as a counterbalance to the World Economic Forum and the hegemonic globalization process. PARA was there to claim for Dalit perspective as did in the incoming events that were held in India: Asian Social Forum Hyderabad 2003 and World Social Forum Mumbai 2004.