To reduce the number of trafficking cases in East Godavari district, the staff of Gender Desk and Project, People's Action for Rural Awakening, along with Human Rights Education conducted a 3-day awareness campaign on July 31, 2019, August 1, 2019 and August 3, 2019 at Ravulapalem Government Degree College, Mahatma Gandhi Aided School, Atreyapuram and Kothapeta Degree College respectively.
Human trafficking is a crime that exploits women, children and men for numerous purposes, including forced labour, begging and prostitution. Addressing the students of Ravulapalem Government Degree College, Gender Desk Coordinator Mrs SeshaRatnam said that though our country had trafficking laws in place, humans continue to be trafficked. She added that Andhra Pradesh stands second in the country in human trafficking. The Gender Desk Coordinator said traffickers lure vulnerable women with jobs at beauty parlours in metropolitan cities and force them into flesh trade. Likewise, men and children would be forced into bonded labour.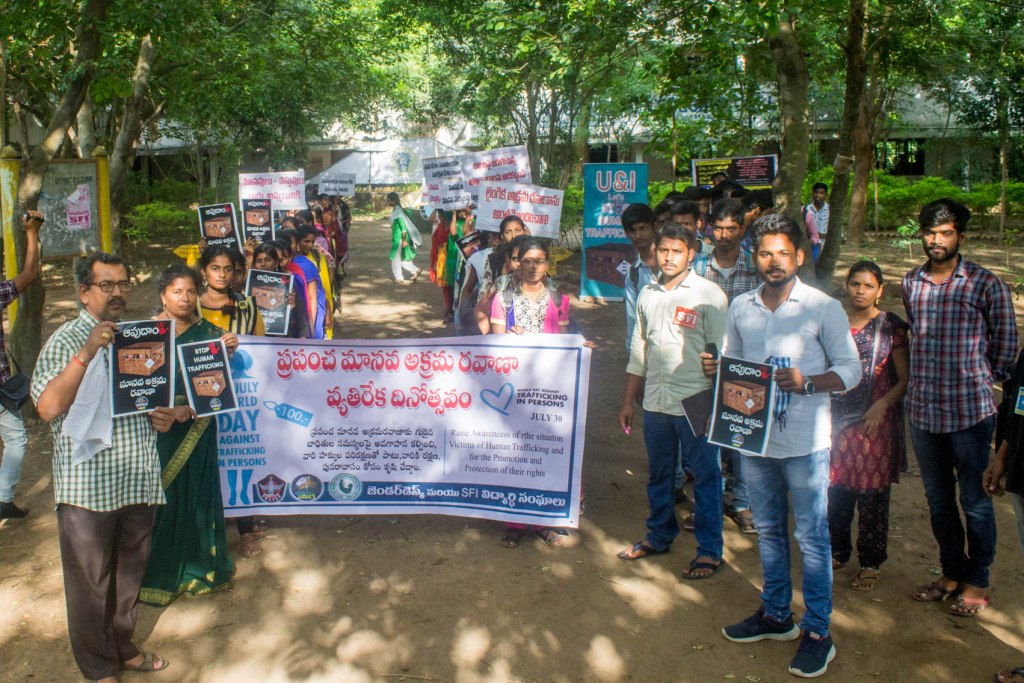 Saying that organ trafficking is also prevalent in India, Mrs SeshaRatnam said added the organs of the victims are sold illegally at high price. She asked the gathering to protect themselves from falling prey to traffickers and also work towards creating awareness among their families and neighbourhood.
Ravulapalem Government Degree College Principal lauded the efforts of police personnel for tracing the four-old-year Jasith, who was kidnapped from Mandapeta town in East Godavari district on July 24, 2019. He also thanked the Additional SI Harikoti Shastry and Assistant SI Prakash for coming to enlighten the college students on contemporary issues. Saying it all starts with a chocolate, Additional Sub Inspector of Police Harikoti Shastry warned girl students to be vigilant. He added that in the name of love, men take women to cities and sell them. Similarly, men fall for this when they are enticed with high paid jobs in Dubai, Hyderabad and so on.
Talking about the ghastly incident of 9-month-old Srihita, East Godavari Human Rights Education team member M Prabhakar said that we should work towards making our villages crime-free and child-friendly.He asked the young participants to stand tall against human trafficking. He later enthused the gathering with a song on youth. The participants also joined their voices. The dignitaries on the stage released a poster on "Stop Human Trafficking" and took selfies in front of a standee that read "U & I, Let's Stop Human Trafficking" to show their solidarity. The selfies were later tagged on PARA FaceBookaccount. Similarly, the students also took selfies and tagged the organisation.
Later, the participants took out a rally from Ravulapalem college to Ravulapalem centre shouting slogans, "Let's Stop Human Trafficking" and "Human Trafficking is Modern Day Slavery".
Likewise, the programmes were also conducted at Mahatma Gandhi Aided School, Atreyapuram and Kothapeta Degree College. Addressing the students, AtreyapuramMandal Education OfficerVaraprasad said that everyone should know their rights and cooperate with government officials to reduce the number of human trafficking cases in the mandal.
Highlighting the efforts of the staff of PARA, SI Prathap Naidu said that the organisation was making great efforts to sensitise people on various social issues. He asked the students to be careful of strangers and to bring to their notice any unusual incident at their village.