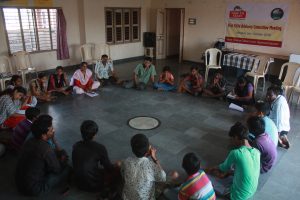 Last October 3rd 2006 was held the First Child Committee Meeting at our Ekalavya Children's Home. It was celebrated in the framework of the 'Time to talk about Child Work – Children's views on Children's work' initiative sponsored by Kinder not Hilfe.
PARA is happy to be partner in this project that must ensure that voice of child workers around the world is heard at the Fourth Global Child Labour Conference in Argentina. For that purpose we brought together 15 children.
The workshop started with some games with the aim to create a more relaxed atmosphere in which children feel less shy to participate. Later circle was made and Father Thomas explained that their participation was not just an opportunity to amplify the child work advocacy's perspective, but also their right according to the article 12 of the UN Convention on the Rights of the Childs. After that the main objective was fulfilled: boys and girls began to talk. Then we found that among them there were one fisherman, carpenters, masons, seamstress, shop hands and retail sellers. They felt comfortable and shared personal experiences and exposed valuable opinions that will undoubtedly help to enrich the further meetings and the Fourth Global Child Labour Conference. Later, children were asked to capture all previous talks and their feelings in creative way by drawing on posters. By the end of the meeting staff members felt that children's joy was the happiness of kids doing what they should: drawing, participating and learning. Just like they would do in the school if they had not been child workers.