In a ghastly incident, a nine-month-old baby was raped and murdered by a 28-year-old man on June 20, 2019 in Hanmakonda, Warangal, Telangana. The baby, Srihita, was abducted, sexually assaulted and gagged to her death. Though the incident took place in the neighbouring Telugu State, it shook the whole nation. A huge protest demonstration was held in Hanmakonda demanding capital punishment to the culprit, Praveen Kumar. A fast track court was also formed for the case. Praveen Kumar was sentenced to death by a local court on August 8, 2019, the first conviction under the amended POCSO Act.
Taking note of rise in child rape cases and violation of child rights in India, the staff of Gender Project along with Human Rights Clubs conducted a month-long candle light campaign asking people to protect children, end such violence against children and guarantee justice for the victims. The campaign against sexual abuse saw the participation from different walks of life, especially children in hundreds.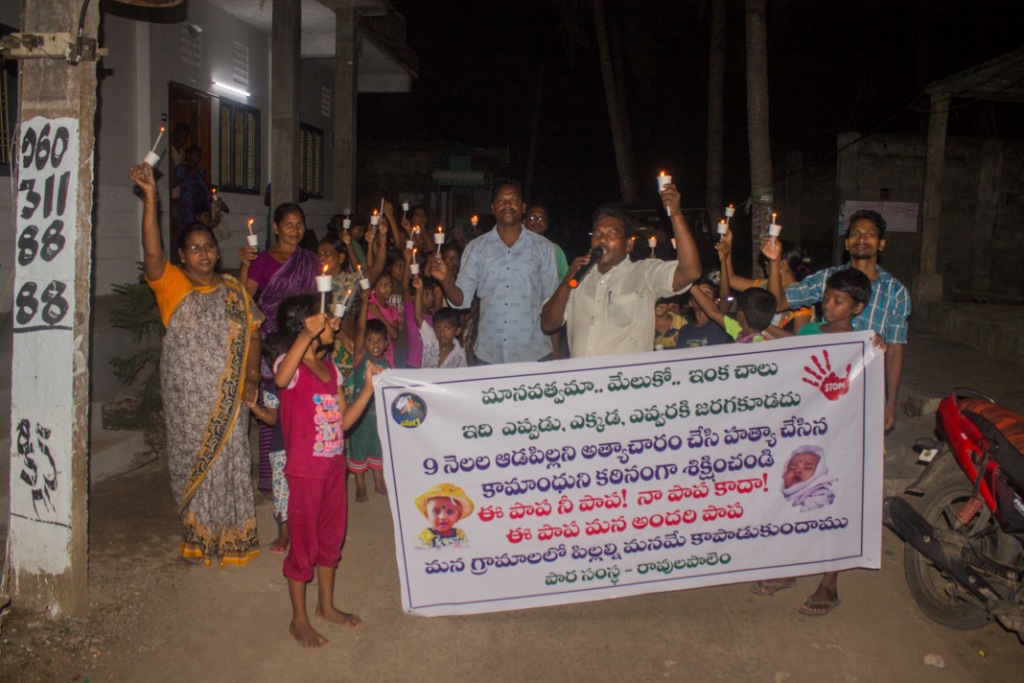 Moved by the horrific incident against the infant, the children – holding candles – marched through lanes of 25 villages in Atreyapuram, Ravulapalem and Kothapeta mandals voicing their concern,"this child is our child," "Let's protect every child in our village", "Prevent Child Sexual Abuse", "End Violence against Children" and "Protect Child Rights".
HRC staff, M Prabhakar, addressing different gatherings, said that in every 15 minutes a child was being molested or raped somewhere in India. He said that parents generally believe that strangers commit such crimes and ask their children to avoid any kind of contact with strangers. In contrast, the studies say otherwise. He said about 90% of child rapes were committed by someone known to the victims. Moreover, only 1% rape cases against women were reported, he added, the other 99% cases go unreported because of shame, fear of retaliation and other reasons. Of 1,000 perpetrators, about 990 walk free.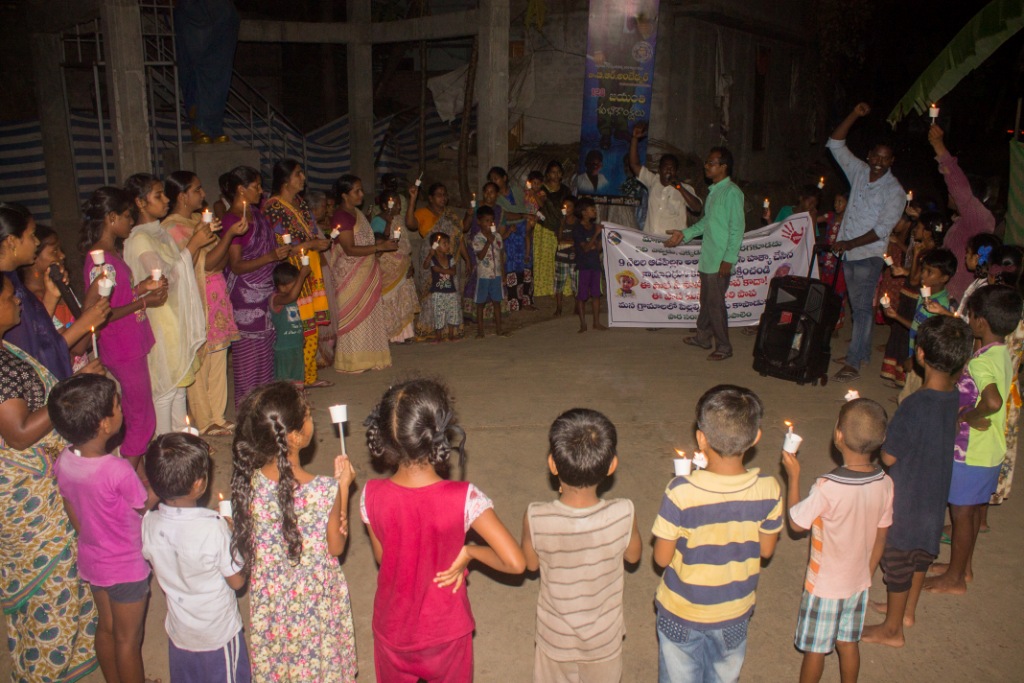 Talking about more sickening incidents, he said that a 94-year-old woman and 2-and-half-week-old boy were sexually abused last year. The HRC staff added that the rights of the helpless continue to be violated by the strong in society. The responsibility of protecting the children rests with everybody, starting with the government, and including the youth, not just parents. Addressing the youth in villages, M Prabhakar invited the youth to be the pillars that strive to make villages free from violation of basic child and human rights. He asked the youth to be active and see that violations of rights won't take place in their villages. He added that youth should work towards making villages child friendly.
On the occasion, Gender Project staff member Surya Prakashasked "how many parents here were spending time with their children"? He added that parents these days were busy with routine like cooking, cleaning dishes, washing clothes, going to work and church and mostly importantly getting stuck to TVs and the serials. They were turning a blind eye to their children. And the gap between children and parents was only widening with each day! He added that the violation of child rights begins from the home with parents violating the right of a childto be heard. Surya Prakash said that parents should create an atmosphere where children would feel comfortable in expressing their feelings and concerns. He added that respecting of rights should start from home.
Sharing shocking stories where children being sexually assaulted by teachers in schools, an anganwadi teacher, who has four daughters, said that parents should spend at least 5-10 minutes with their children and find out what they did the whole day. She added that it was our duty to see that our children were safe and sound.