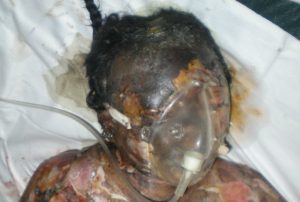 This is the story of a 15 year old girl studying 9th Class, who set herself on fire after the village elders gave a judgement against her.
On the 1st of June, when Venkatalakshmi (The victim) was in her house alone around 11.00 AM P.Subrahmanyam, aged 20 years (The Accused) had overpowered the girl and had raped her. Venkatalakshmi had informed this to her parents and the parents went to the village elders for judgement on the 2nd June.
The Village elders gave a judgement in favour of the Accused (Subrahmanyam) by saying The Victim went into the house of the Accused and had stolen Rs.6,000.00 from the Accused house and in the judgement copy it was also mentioned that the victim family has to pay Rs.3,000.00 as a compensation for the theft.
Venkatalakshmi came to know of this on 3rd June. Because of the Humiliation caused to her, on the same day (3rd June 2009) she had set herself on fire by pouring kerosine and had suffered 90% burns.
From the PARA Gender Desk, Sesha Ratnam , Nagur , Vimala, Chinna Babu had gone to the victims' place for fact finding and had succeeded in filing an FIR in the local police station.
The saddest part, The Girl died on the night of 6th June 2009. The Girl would not have died had the Village elders, given her the justice. Even if the justice is not given had the village elders not been so unjust A lifw would have been saved.
We at PARA demand that the village elders who are responsible for this be arrested
May the Girl's Soul rest in Peace.