YaR DAY 2018 – I
Rajamahendravaram, 8-9 December 2018
YaR Day Celebrations – 2018 kick-started with participants singing melodious songs on December 8, 2018 at Nethanja Residential High School, Rajahmundry. Around 300 people, including children of the 6 province YaR centres, teachers and directors of Don Bosco institutes from Rajahmundry, Vijayawada, Visakhapatnam, Kurnool, Warangal and Hyderabad and volunteers from Austria, Germany and Italy took active part in the celebrations. The programme included various games and competitions for all the participants.
State Commission for Protection of Child Rights (SCPCR) member Gandhi Babu was the chief guest. The Salesian Provincial Fr. Vijay Bhaskar SDB, Mayor P Rajani Sesha Sai, Child Welfare Committee Chairperson Mrs. Padmavathi, Rajahmundry SHE Team Assistant Sub-Inspector M. Rasheeda, YSRCP Floor Leader Sharmila Reddy and Oye Ninne fame M Bharat were among the honourable guests who graced the dias.
Addressing the gathering, Fr. Balashowry, the YaR coordinator for Andhra Pradesh and Telangana, welcomed SCPCR member Gandhi Babu and everybody present on the occasion. Saying that this is the 20th YaR Day celebrations, he added that children from various parts of Telangana and Andhra Pradesh meet every year at this platform to encourage and support each other. He pointed to this year's theme as "Protect Children from Violence".
The inaugural session began with all the guests on the stage lighting the lamp at 10:50 am. The Provincial pointed out that Don Bosco considered childhood as a crucial phase of human life and every child should lead a happy and free life. The speaker added that the Don Bosco organisations seek to ensure such a possibility for children. Quoting a study by UNICEF, he said that one youth was succumbing to violence every 5 minutes somewhere in the world. For society to change, we need to change first. The Provincial concluded saying that we all need to work towards a better future of all children. He added that the YaR centres were special NGOs that work with orphans, semi-orphans and children who find shelter on the streets. He added that the organisation not only provide education but also teach them how to love each other and spread love across the society.
Welcoming the theme of the YaR Day, "Protect Children from Violence", Oye Ninne fame M Bharat said that children should not be subjected to violence. He added that it was important to identify the root cause of a problem to eradicate it. Moreover, the government should adopt children, provide education and see that they succeed in life, the actor said. Saying that education is as important as food, he asked students to study hard and reach high positions. He added that he would work, in consultation with elders, on the root cause of the problem and take action against it. He said that he was determined to establish an orphanage and an old-age home in the name of his grandfather M Rama Rao. The idea was to create a space where orphan children could see parents in elderly people and vice-versa. He concluded saying that he would work towards the welfare of children.
Retired Commerce Prof. V A Narayana said that the government should encourage children with regard to finance, facilities for mental health, etc. Asking the participants not think that they are orphans, he said that they would, one day, become self-supporting. He assured the gathering that some of the participants would become teachers, doctors, engineers, scientists, some day.
Asking to aim high and to dream high, YSRCP floor leader Sharmila Reddy added that everybody had hidden talents. Not everybody may be good at studies, some will be good at music, some at drawing, sports and so on. With several organisations coming forward, child labour – to an extent – has reduced in the city, the YSRCP floor leader claimed. Talking about self, she said that after being elected as the corporator she had adopted two government schools, Nehru Nagar High School and Nehru Nagar Municipal School, which are now providing facilities on par with private institutions.
Rajahmundry SHE team assistant sub-inspector M Rasheeda shocked the audience with the information that about 8,000 men were taken into custody by their team. They were counselled against teasing and bullying women which is actually sexual harassment. Warning against such acts, she asked the participants to respect women and elders, to study hard, and not to get involved in illegal activities.
AKWA founder president Md Arief said that real orphans were not the ones who didn't have parents but friends. He added that the one who was without an aim was an orphan. He also said that the participants should grow to such an extent where they would be able to guide elders.
Explaining the pressure from politicians while stopping child marriages, resisting violence, talking about child rights, etc, SCPCR member Gandhi Babu said everybody who was drawing salaries from the government were accountable for the future of the children. He questioned the authorities why they were scared to question about the violation of the rights of children. The SCPCR member said those who violate child rights should not go unpunished.
At this point, all the guests who graced the dais were felicitated and given mementos. After the inaugural session the programmes of the YaR day continued. (To be continued)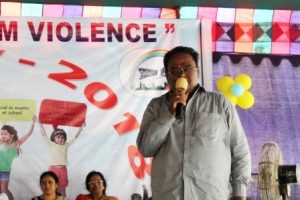 Media clippings: